Faculty
Dr. Rick Kerchee Powelson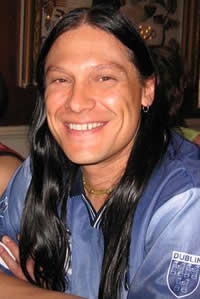 Dr. Rick Kerchee Powelson serves as the Dean of the Comanche University of the 49. He is also a Professor of Reality and the director of CU49's PDA (Powwow Dancer Association)-accredited Indian Studies Program. He received his A.A.S. in Instructional Technology from the Community College of the Air Force (1992), his B.S. in Industrial Technology from Southern Illinois University (1992), his M.S. in Computer Information Systems (2003) from the University of Phoenix, and his Ph.D. in Powwowology with a specialization in Southern Straight Dance from the Comanche University of the 49, Walter's, Oklahoma (1993). He has worked for the US Air Force since 1984 as both uniformed (retired 2004) and civilian. He has been based in various locations throughout the world and is presently employed in Colorado Springs, Colorado. He has been a consultant to various military Native American organizations. Dr. Powelson is a Fellow of the Comanche War Scouts veteran's organization, as well as the Comanche War Dance Society, both based in Lawton, Oklahoma. His primary research program centers on interpersonal relationships during 49 dances and the processes and outcomes associated with having "keen" dance clothes. He has written over 6 journal articles, book chapters, as well as two books: A Half-Breed Pima Bajo in Comanche Country and Another Long Season: How Jerry Jones Dismantled the Dallas Cowboys (Thank God It's Time for Hockey). Dr. Powelson also holds the position of editor of The Horseman newspaper. He is snagged by a wonderful woman and has two beautiful daughters, a fantastic step son to-be, and two cats.

You can contact Dr. Powelson via e-mail at powel0268@msn.com
Crystal Spirit Wolfrunner
Crystal Spirit Wolfrunner is the Professor of Spiritual Studies at CU49. She is NOT a real person. However, her character was inspired by some very real persons I have met over the years. The whole purpose of the page is to point out the absurdity of your average twinkie. It also contains a lot of the typical "Indian Speak" and mish-mashing of disparate tribal customs you will find on twinkie websites.
The discussion of Grandmother Moon, the Virgin Mary, and Elizabeth was based on an actual conversation a lady in Texas had with me. While she was explaining this whole story to me, all I can remember is thinking was, "far out man." The only change to the actual story was that she claimed to be a Lipan Apache who sought out the advice of a Choctaw "holy man" who in all reality turned out to be a 25 year old Hispanic that was running sweat lodges and all that. There was a lot more to the story (glowing bodies in the sweat lodge, spirits materializing, etc), but left it out as it didn't fit the purpose of the page. I changed her tribal affiliation due to the obvious reason; the majority of twinkies claim to be Cherokee. Of course, this makes it all the more funny to Indian people reading the page.
The elements inspired by twinkie websites include:
I learned to respect the 4 legged people as well as the standing people of the forest. The feathered people of the air also make my heart glad.
Discussion on Druids and Wales and their relationship to Native Americans
Wolf visions
Native American Religion (whatever that is)
Cherokees doing the Lakota Sun Dance
Crystal ceremonies
And of course Indian cliches such as " natural, spiritual life" and "we are all related."
The paragraphs speaking of legal threats, me not being an Indian because I didn't act like one, and so on, all stemmed from e-mail traffic and discussion boards. There have been several people who did not like what I had to say, and were sure to let me know about it.
The last paragraph concerning a new tribe came from several websites that offered "tribal enrollment" in non-recognized (federal or state) "tribes", or other twinkie and wannabe "intertribal" groups.
Since Crystal Spirit Wolf Runner's initial creation in 1997, she has been linked to 254 educational, cultural, and personal websites. I am extremely proud of her and hope she has done some good to help educate people about the mythical beings that twinkie and wannabe websites portray Native Americans to be.